Bathroom Remodeling and Bathroom Renovations In Austin, Georgetown, Cedar Park, Round Rock, Pflugerville, TX, and Surrounding Areas
Bathroom remodeling and renovations are a fun project we enjoy as much as our clients.
Choices in bathrooms designs used to be limited in size and build in vanities, sinks, and showers. But now there are wall-mounted vanities, vessel and undermount sinks and more. Showers have even changed with zero entry stalls, double shower heads, steam options and more. Many of our customers want to change their bathroom as a bathroom renovation with just cosmetic changes. Others want a complete bathroom remodeling to change the layout and features to suit their needs. Either way, Contract Remodeling Services can complete your bathroom design to remodel or renovation from start to finish. Let us be your design-build contractor to bring your design to reality with our streamlined process.
From inception to final design, we offer the finest cabinets, materials and certified installations, including granite and tile.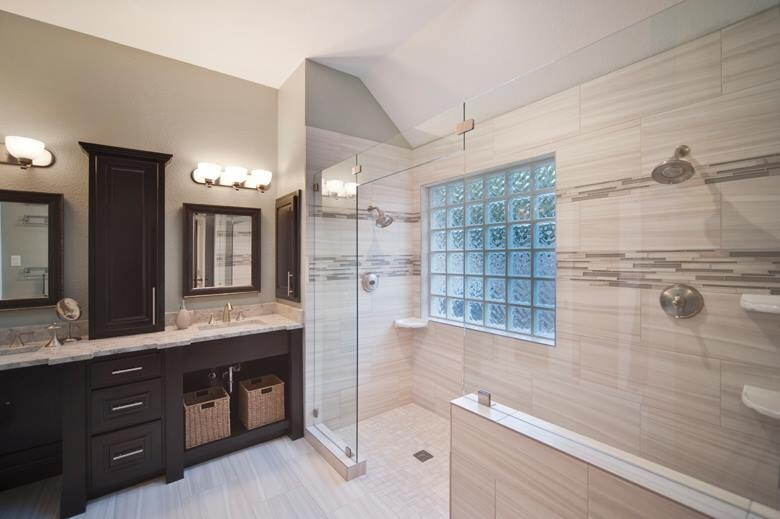 Bath Remodel
Contract Remodeling Services specializes in unique bathroom remodels with style and function.
We go beyond the job of a general contractor to make sure your bathroom remodel has the unique stylish features that make your bathroom one-of-a-kind. Look through our gallery to see the different styles we have worked on in the past. Depending on what you are looking for, we can beyond the standard natural-tile look to give you bright colors, cooling and calming color combinations and more. Take a chance with design guided by our design-build contractor experience. Our designers will create a cohesive look and our workmanship will bring it together. We control all work including tile, plumbing, cabinets and more to create a streamlined finished product.
Small Bathroom Remodel
Small bathrooms can be a quick project depending on what they entail.
Usually categorized as bathrooms rooms under 40 square feet, they can be simple powder rooms, guest bathrooms or children's bathrooms. Sometimes our designs have to be creative to get all the features in, but they love the challenge and have many ways in getting everything to fit without feeling too crowded.
Here are some of their tips for making sure a small bathroom remodel doesn't feel too small.
Use bright or soft colors.
This may seem obvious but dark walls are in style now. You can balance out dark walls with light flooring. If light flooring is not an option, use a large washable-friendly rug.
Brighten the room with appropriate light.
Designers love to talk about suitable lighting and a bathroom remodel is a great time to install the right type of lighting or maybe even a skylight. This will help balance out any dark colors you choose.
Keep walls and floor space clear.
This will extend your small bathroom and make the space larger. Pedestal and wall-mounted sinks are a great option, especially in a powder room where storage space is not required.
Glass doors in shower and tub space.
For tubs this may be difficult so a curtain that is pulled back out of the way works too. Both of these options give the illusion of pushed back walls.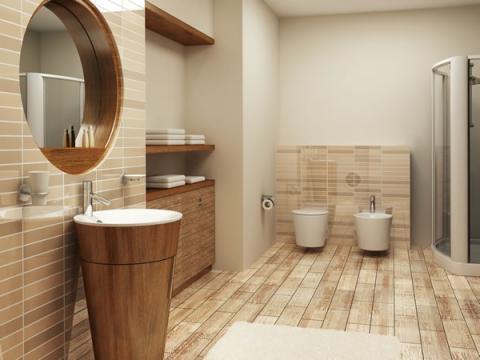 New Bathrooms for New Construction
New bathrooms in new construction is another service we provide.
We work with many existing homes in the Austin area home including Round Rock, Pflugerville, Georgetown, and Cedar Park and can also work on your new bathroom design in your new build house or as part of our custom home building. Having a design-build contractor work on your bathroom is a great way to get the features you want followed by excellent build craftsmanship.
Gallery
Contract Remodeling Services is dedicated to meeting your needs.
Our company is licensed and insured for your protection. Call us now at 512-278-8975 to get a free estimate on your next bathroom remodeling project!