Kitchen Design, Kitchen Cabinets, and Kitchen Remodeling in Georgetown, TX
Kitchen Remodeling Georgetown, TX, Residents Trust – 512-278-8975
Now is a great time for the kitchen remodeling you have been eyeing. It looks like the new kitchen design of a clean, white, and bright kitchen is going to be with us for a while. And why not? With such an open design, a new bright kitchen is no longer the dark room of your Georgetown home but part of the overall bright esthetic of your entire home.
When looking for a general contractor for your new kitchen design, make sure you are selecting one that checks off all the boxes you are looking for:
Design build – one contractor from start to finish for seamless integration. Having one general contractor means straight communication, and accurate timelines, and avoidance of errors.
Quality workmen for plumbing, drywall, painting, flooring, and more – 42 years of business has meant we not only have added craftsmen to our own organization but also have a wide network of quality craftsmen we work with. This means staying on schedule while continuing excellent work.
Dedication to our profession – not only are we licensed, but we are also a permitting specialist and insured. We wouldn't want anyone but the most qualified to work in our home and we know you wouldn't either.
Kitchen Remodeling in Georgetown, TX
Contract Remodeling Services is the trusted remodeling contractor for kitchen renovations and remodeling in Georgetown, TX. Honesty and integrity above all else, 42 years of experience, and counting, we are ready to help you design the perfect kitchen for your needs.
Kitchen Cabinets in Georgetown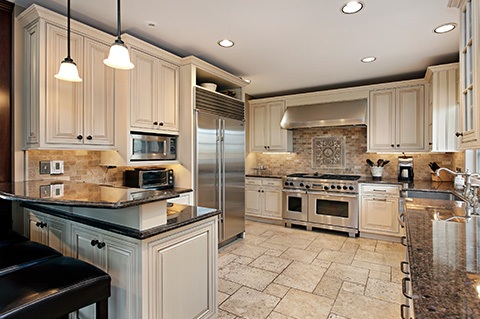 One of the reasons many of our Georgetown customers are looking to remodel their kitchen is because it no longer fits their lifestyle of needs. Think of the cabinets that bang, are unreachable, or just aren't functional for what you need. Space in kitchen cabinets is only as good as it is useable. New kitchen cabinet designs are available that not only let you take advantage of all the space available but also lets you use them to their fullest ability. Be sure to tell us everything that drives you crazy in your current kitchen and what would make your life easier. And, we might even have some suggestions of our own to tell you. Contact Contract Remodeling Services. Inc. today.
Kitchen Remodeling in Georgetown, Texas
Step 1: Get Started with Our Kitchen Designer
Our kitchen design team can help you find the exact style, look, feel, and materials to design your dream kitchen! Not sure what you want? No problem! Our experience has lead us to design and install kitchens of a variety of styles in a wide range of budgets. Just tell us how much you would like to budget for the project and we can take it from there!
Step 2: Let the Work Begin
We offer more than just a great design, we are remodeling contractors at the heart of our business, so we can literally take your vision from conception to reality. No more worrying about multiple companies handling different aspects of your kitchen remodeling. At Contract Remodeling, we can manage it all for you!
Step 3: Enjoy!
Having a great kitchen is not only a good investment financially, it can significantly improve your quality of life at home. Improving your kitchen's function and esthetics make it easier to use and more enjoyable to spend time in.
Ready to start? We are proud to service Georgetown as well as the surrounding areas in Texas.
Georgetown is a ranked high-growth area both in Texas and the entire country. In fact, the city has grown over 50% in each of the past three decades. Alongside newer homes are existing homes featuring Victorian architecture. Both older homes and those built in the boom of the 1980s and 1990s could benefit from a new kitchen remodeling to fit today's lifestyle and families.
About Contract Remodeling Services in Georgetown, Texas
Contract Remodeling Services offers turnkey commercial and residential remodeling, and custom home building services, specializing in the design and creation of spectacular bathrooms and kitchens. We work from start to finish, design to completion. We love to design projects that work for the needs and wants of our customers and then follow through with quality materials and workmanship. The result is beautiful spaces for work and living with long-lasting design and excellent build. Professional associations, awards, and certifications:
Better Business Bureau Accredited Member: A+ Rating
General contractor's license
Certified soundproofing specialist (construction and materials)
Permitting specialist
Licensed and insured