Kitchen Remodeling, Kitchen Cabinets, and Kitchen Design in Cedar Park, TX
Kitchen Remodeling Cedar Park, TX, Residents Trust – 512-278-8975
It is time to get a kitchen remodeling in your Cedar Park home. You have watched the shows, collected your ideal color pallet, backsplash choices, and more. Now all you need to do is find a general contractor that can make your new kitchen design happen.
When it comes time to look for a general contractor for your Cedar Park home, here are some of the questions you should ask:
Are you licensed and insured?
Do you handle all the permits?
Can I talk to references?
Do you have various craftsmen within your organization?
What type of products do you source?
Can I provide my own materials?
Can you make or provide custom kitchen cabinets?
And when you talk to references, make sure your general contractor has followed through on the different things they promised. After all, any company can promise but few can deliver. At Contract Remodeling Services, Inc., we know you will be happy with all the services we provide to you. After all, our business was built on referrals and many customers have come back to us for more remodeling jobs.
Kitchen Remodeling in Cedar Park, TX
Contract Remodeling Services is the trusted remodeling contractor for kitchen renovations and remodeling in Cedar Park, TX. Honesty and integrity above all else, 42 years of experience, and counting, we are ready to help you design the perfect kitchen for your needs.
Kitchen Design and Remodeling in Cedar Park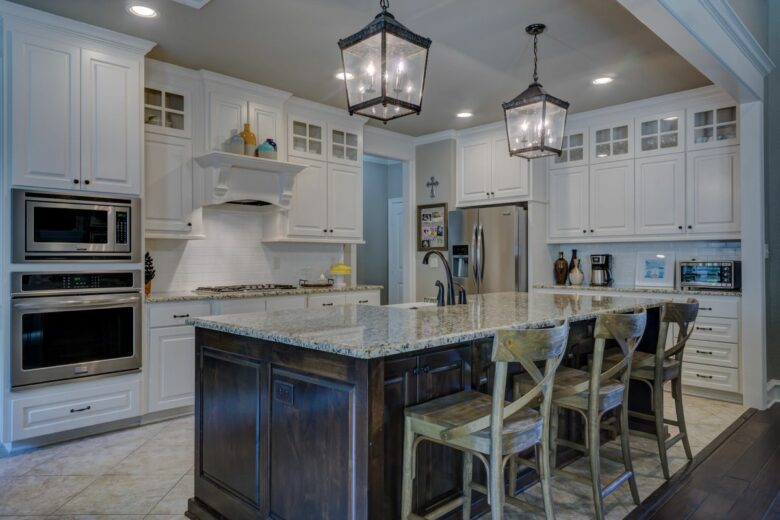 We have done so many different kitchen design styles in our 40 years that we've seen all kinds of styles. From kitchen cabinets that are dark wood to light, bright, and white. Backsplash from natural stone to glass. Counters from tile to granite. Whatever a customer wants is important to them and we understand that. It is our job as your general contractor to bring it together in a hassle-free process. And we would not talk about our abilities at all without mentioning our quality to detail. Tilework, flooring, cabinet installation, and more are the different parts that come together to complete a fabulous new kitchen in your Cedar Park home.
When it comes to kitchen remodeling, it is a big job. Kitchen remodels take time and money. Making sure you get everything you want as well as the quality work will pay off in the end. There might be lower estimates. Some companies just starting off may lower their prices to get work. But we can ensure you the kitchen remodeling we do in your Cedar Park home will represent the value and quality you are looking for.
Kitchen Cabinets for Cedar Park, Texas
Step 1: Get Started with Our Kitchen Designer
Our kitchen design team can help you find the exact style, look, feel, and materials to design your dream kitchen! Not sure what you want? No problem! Our experience has lead us to design and install kitchens of a variety of styles in a wide range of budgets. Just tell us how much you would like to budget for the project and we can take it from there!
Step 2: Let the Work Begin
We offer more than just a great design, we are remodeling contractors at the heart of our business, so we can literally take your vision from conception to reality. No more worrying about multiple companies handling different aspects of your kitchen remodeling. At Contract Remodeling, we can manage it all for you!
Step 3: Enjoy!
Having a great kitchen is not only a good investment financially, it can significantly improve your quality of life at home. Improving your kitchen's function and esthetics make it easier to use and more enjoyable to spend time in.
Ready to start? We are proud to service Cedar Park as well as the surrounding areas in Texas.
Can you believe it is possible for a city to grow by almost 400%? This happened to Cedar Park, a suburb of Austin located just 16 miles from the larger city's center. From the 1990 census to the 2000 census, Cedar Park grew from 5,261 to 26,049. We're sure some of the homes built in the 1990s have the darker kitchens that were the style during that time. Contract Remodeling Services, Inc. is ready to help any Cedar Park homeowner with their new kitchen remodeling to update their kitchen.
About Contract Remodeling Services in Cedar Park, Texas
Contract Remodeling Services offers turnkey commercial and residential remodeling, and custom home building services, specializing in the design and creation of spectacular bathrooms and kitchens. We work from start to finish, design to completion. We love to design projects that work for the needs and wants of our customers and then follow through with quality materials and workmanship. The result is beautiful spaces for work and living with long-lasting design and excellent build. Professional associations, awards, and certifications:
Better Business Bureau Accredited Member: A+ Rating
General contractor's license
Certified soundproofing specialist (construction and materials)
Permitting specialist
Licensed and insured