Kitchen Remodeling, Kitchen Cabinets, and Kitchen Design by General Contractor in Pflugerville, TX
Kitchen Remodeling Pflugerville, TX, Residents Trust – 512-278-8975
At Contract Remodeling Services, Inc., we love to complete kitchen designs that change the way our customers use their kitchen. From the closed off area you hated to use, to an open space for entertaining, family time, and great memories. This is the result of a kitchen design that works for your lifestyle and needs. As a general contractor working in the Pflugerville area, we'd love to meet with you when you're looking for a general contractor to help you with kitchen remodeling to get the kitchen design of your dreams.
As a general contractor that functions on a design-build basis, we are sure to satisfy your needs for quality work, great materials, and a kitchen design that functions for your lifestyle. We can offer expert design and installation services for cabinetry design and custom cabinets, as well as countertops in a variety of materials (granite, marble, tile, concrete, quartz, and more). Get that open kitchen design, kitchen island with bar seating, or eat-in kitchen you've been dreaming of!
Kitchen Remodeling in Pflugerville, TX
Contract Remodeling Services is the trusted remodeling contractor for kitchen renovations and remodeling in Pflugerville, TX. Honesty and integrity above all else, 42 years of experience, and counting, we are ready to help you design the perfect kitchen for your needs.
Kitchen Remodeling in Pflugerville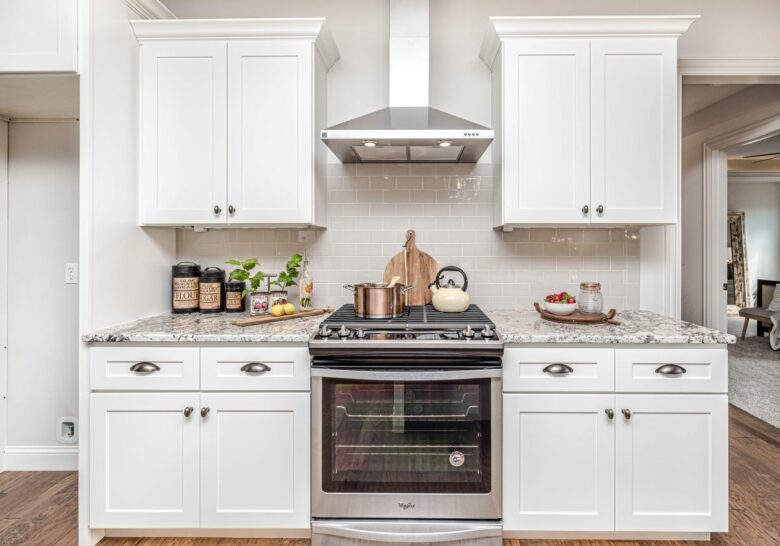 When it comes to kitchen remodeling for your Pflugerville home, picking out the backsplash, color pallet and counters is fun, but the kitchen cabinets may take more time. After all, kitchen cabinets have more of a functional element to them and there are many choices between materials and finishes.
Here are some of the aspects you should consider when it comes to kitchen cabinet designs for your Pflugerville kitchen remodeling:
Kitchen cabinet door designs – When selecting kitchen cabinets, this is one of the first choices you should make. Trying to pick color and design at the same time is difficult so it's best to start off with the design. The design you choose will set the tone for the overall design from traditional, modern, and sleek, or ornate.
Wood type and color – Now it's time for the color. White is extremely popular, but it might not fit your lifestyle. Some families choose a darker color, such as navy, or a natural wood finish that helps to hide scuffs and spills.
Function and use – What do you need for your lifestyle? Large, deep drawers? Or do you prefer shelving? Do you like open cabinets, or do you prefer to have everything hidden away? And what type of gadgets, objects, or appliances do you need in easy reach?
Organization –If you do a lot of specialty cooking, then maybe you need special drawers to hold spices located near the stove. If you do a lot of baking, then maybe long vertical cabinets for baking trays and cooling racks would be a great addition. And of course, we always have clients that like everything organized – a place for everything and everything in its place!
Kitchen Design and Kitchen Cabinets for Pflugerville, Texas
Step 1: Get Started with Our Kitchen Designer
Our kitchen design team can help you find the exact style, look, feel, and materials to design your dream kitchen! Not sure what you want? No problem! Our experience has lead us to design and install kitchens of a variety of styles in a wide range of budgets. Just tell us how much you would like to budget for the project and we can take it from there!
Step 2: Check if You Qualify for Easy Financing
We understand that making home renovations can be costly, but it isn't like any other regular expense, it is a valuable investment that can instantly increase the value of your home. Did you know that some home improvement projects qualify for financing? Get an estimate and we can help you find out if you qualify today!
Step 3: Let the Work Begin
We offer more than just a great design, we are remodeling contractors at the heart of our business, so we can literally take your vision from conception to reality. No more worrying about multiple companies handling different aspects of your kitchen remodeling. At Contract Remodeling, we can manage it all for you!
Step 4: Enjoy!
Having a great kitchen is not only a good investment financially, it can significantly improve your quality of life at home. Improving your kitchen's function and esthetics make it easier to use and more enjoyable to spend time in.
Ready to start? We are proud to service Pflugerville as well as the surrounding areas in Texas.
Like many areas in the Austin metropolitan area, Pflugerville has been experiencing an explosion of growth. Starting as a small farming community, more people started moving to the Austin area looking for a family friendly area that would offer great schools, affordable living, and active recreational adventures. From a population estimated at 65,000 in 2020, it is hard to imagine the city once only had 745 residents back in 1980. Contract Remodeling Services, Inc. is proud to serve the Pflugerville area with all their kitchen remodeling needs.
About Contract Remodeling Services in Pflugerville, Texas
Contract Remodeling Services offers turnkey commercial and residential remodeling, and custom home building services, specializing in the design and creation of spectacular bathrooms and kitchens. We work from start to finish, design to completion. We love to design projects that work for the needs and wants of our customers and then follow through with quality materials and workmanship. The result is beautiful spaces for work and living with long-lasting design and excellent build. Professional associations, awards, and certifications:
Better Business Bureau Accredited Member: A+ Rating
General contractor's license
Certified soundproofing specialist (construction and materials)
Permitting specialist
Licensed and insured