Your bathroom is the first place you go to after waking up every morning. Hence it should be a place that should cheer you up and set you for the day ahead. Whether you want to completely remodel your bathroom or just make some cosmetic changes, your search should stop at Contract Remodeling Services. We have over 40 years of experience in the remodeling industry and have created beautiful and functional spaces for our past clients. Our bathroom remodeling services go way beyond that of a general contractor. We bring unique styles and a one-of-a-kind look with us to any project. You want bright colors or calming color combination, wall-mounted vanities, double shower heads, or steam options, we have it all. Our design team will listen to all your requirements and come up with a cohesive look that will give you a streamlined finished product. The people of Cedar Park, Round Rock, Austin, Pflugerville, and Georgetown TX can vouch for us that our high-quality, state-of-art products are always followed by exemplary craftsmanship.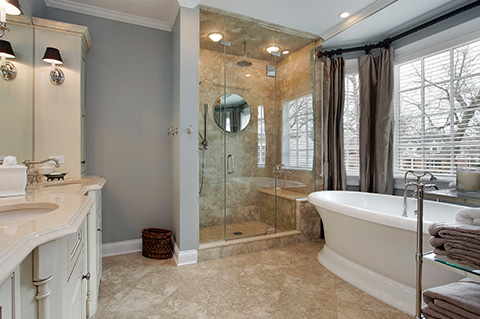 Below we have mentioned 3 ways how we can turn around your bathroom. Take a look.
Use bright and contrasting colors
Using contrasting colors are back in fashion. When you have the contrast of dark walls and light floors or vice-versa, it will give an illusion of a big room. Having a bright huge washable rug on the floor can also lift up the spirit of your bathroom.
Brighten the space with lights
Having the appropriate lights can change the appearance of your bathroom. Suitable lighting will even help in balancing your bright walls, make your space look bigger, and give your room a whole new look.
Keep the floor and walls clear
If your bathroom is small, we would advise you to keep as much as empty space as possible to give an illusion of a bigger space. Having wall-mounted sinks and pedestals would be a good idea.
So, if you have any plans for remodeling your bathroom, you can get in touch with us.