Custom Kitchen Remodeling, Kitchen Design, and Kitchen Cabinet Design in Barton Creek, TX
Your Trusted Kitchen Remodeling Experts near Barton Creek, TX
Kitchens are the gathering place inside most homes in Barton Creek, TX. Because they are used daily and need to accommodate a number of different uses, kitchen remodeling is a common home project that our team at Contract Remodeling Services, Inc. handles. We can help with your kitchen design to make it work for how you use the room. The kitchen cabinets should provide all of the storage that you need, where you need it. Talk with our team to learn about the latest trends in kitchen remodeling and how we can incorporate your vision into the kitchen design. Contact us today to get started transforming your kitchen so that it works for you.
Kitchen Design in Barton Creek, TX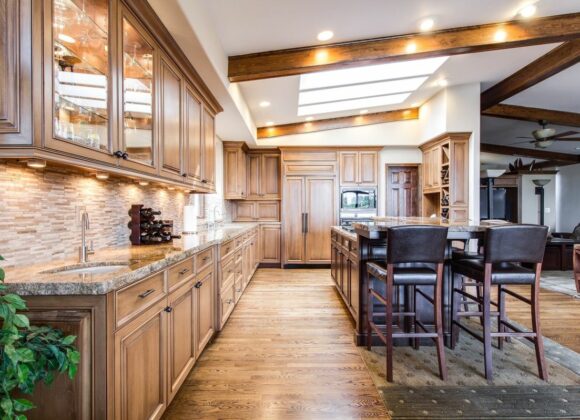 When it comes to effective kitchen design, it is important to understand how you will be using your kitchen, as well as who will be using it. The size that you have available will lend itself to different shapes for the kitchen, from small galley style kitchens in more compact places to larger L-shaped kitchens where you have more room to spread out. You may find that you have the space to add an island to the kitchen as well to provide more working and storage space.
The color choices in your kitchen, from the cabinets to the floor to the counters, can also affect your kitchen design. Smaller spaces tend to benefit from lighter colors, where larger rooms may provide opportunities for adding splashes of darker colors. Keep in mind the size of the appliances that you want and how those will fit into the space, as well as other features such as lighting and storage options.
Kitchen Cabinet Design, General Contractor, and Custom Remodeling in Barton Creek, Texas
By choosing custom kitchen cabinet design, you will be maximizing your space and can create useful features around your kitchen such as a narrow spice rack near the stove. Engaging in a custom remodeling project for your kitchen is daunting enough so let our team be the general contractor for your project to keep all aspects on track from start to finish at your Barton Creek, Texas home. As a design-build contractor, Contract Remodeling Services, Inc. provides a streamlined process that has been refined over the last several decades.
It pays to work with an experienced kitchen remodeling team. The community is home to the Barton Creek Greenbelt, a 7.9-mile-long linear park that features hiking and biking trails, swimming holes, and rock-climbing opportunities. Barton Creek is a well-established community that offers residents a high quality of life. Contact our team to start the design process for your kitchen remodeling project.
---
CONTRACT REMODELING SERVICES
---
Experience the Contract Remodeling Services Difference
When you choose Contract Remodeling Services for your kitchen remodeling needs in Barton Creek, TX, you're choosing a team of professionals who are passionate about their craft. With our expertise, attention to detail, and dedication to customer satisfaction, we guarantee a remodeling experience that exceeds your expectations.
We pride ourselves on our honesty, integrity, and transparent communication throughout the entire remodeling process. From the initial consultation to the final walkthrough, we'll keep you informed and involved every step of the way.
Transform your home with Contract Remodeling Services. Contact us today to schedule a consultation and let us help you turn your remodeling dreams into a reality. Together, we'll create a space that you'll be proud to call home.