Your kitchen is the heart of your home. It's where you gather with family and it's where you create memories that last a lifetime. If your kitchen cabinets are looking dreary or you're trying to update the look and feel of your home, custom kitchen cabinet designs can help you get exactly what you're looking for at an affordable rate.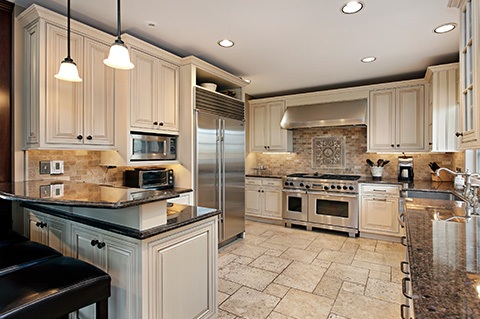 If you live in Austin, Georgetown, Cedar Park, or the surrounding areas, Contract Remodeling Services, Inc. can help you update your kitchen with custom kitchen cabinet designs that improve your home. The following are four kitchen cabinet designs that homeowners in Central Texas use to spruce up their kitchens.
Rustic- Rustic kitchen cabinets come in a range of styles, colors, and materials. For Texas homeowners who enjoy a traditional country style aesthetic, rustic kitchen cabinet designs are an ideal choice.
Contemporary- Contemporary kitchen cabinet designs feature flat services that include minimal ornaments and simple designs. With the look of simplicity, cleanliness, and class, contemporary kitchen cabinets are a great choice for homeowners with modern homes.
Glass-Front– Glass-front kitchen cabinet designs are a combination of solid cabinet doors with glass windows that display items and kitchen tools. Showcasing glassware and other items, glass front kitchen cabinets are great for displaying your prized possessions and collections.
Louvered- Louvered kitchen cabinet designs are a decorative cabinet style that utilizes horizontal wood slates for design and ventilation. Not only are louvered cabinets practical, but they're also ideal for kitchen island cabinetry.
At Contract Remodeling Services, Inc. we provide a range of general contractor services to businesses and homeowners in Round Rock, Georgetown, Cedar Park, Austin, Pflugerville TX, and the surrounding areas. With a team of licensed and insured craftsmen, we value quality service and quality renovation solutions. Our reputation for excellence dates back over 40 years, making us the preferred choice for businesses and residents in Central Texas. From kitchen cabinet design to design-build construction, we work with you every step of the way. Contact us today to learn more about our general contractor services.