Large walk-in showers are the rage in new bath remodel ideas. Whether you're looking through Pinterest or watching home remodeling shows, you've seen showers with amazing unique ideas. Your bathroom, and especially the shower, can almost be a work of art with rich tile designs, unique framing and more. As more homeowners are opting for a tub to shower conversion, the shower tile is getting more attention opposed to the tub which used to be a feature – jacuzzi, clawfoot or otherwise.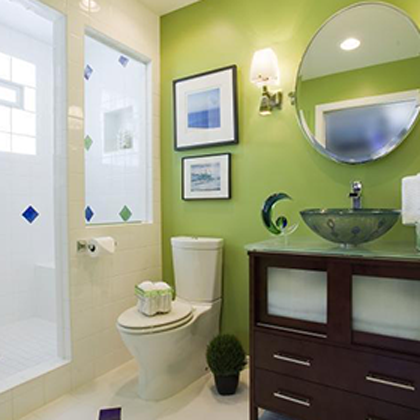 When approaching tile choices for their bath remodel, homeowners usually tend to think about resale value. But, if you are going to be in your home for 10 years or more, you should go ahead and go with what you want (hint: you can do this anyways!). With all the bath remodel shows and online blogs, trends tend to change very quickly. When it comes time to sell you can easily change out tile to the most up-to-date tile.
So, let's get to the creativity!
Blue Green tile. While most popular along the coast, this can be done anywhere. A very oceanic look, this will brighten you up in the morning and feel like a high-end ocean-side spa.
Mountain lodge. With slate tile and wooden beam details, your bathroom can feel a northern log cabin. Dark fixtures complete the look.
Mermaid tile. Another trip back to the ocean, this look is great for a children's bath. Most often only done on one wall to not overwhelm a bathroom, take advantage of the current mermaid rage to fuel your inspiration. Blue, teal or pearly iridescent, mermaid tile can as subtle or dressed up as you want.
Extruding tile. This is tile that either has an alternating depth as part of the design or your bath remodel contractor installs tile to create an uneven surface. This look gives depth and character to what might otherwise be a flat wall. A word of caution, laying tile in this design is definitely an art that requires expertise and experience.
Your shower wall is a great place to add a feature and design during your bath remodel. When going with feature tile, be sure to work with a trusted contractor with tile and bath remodel experience. Laying tile is not something that should be left to amateurs.
Contract Remodeling Services can help you select the tile best for your bath remodel. Discuss your plans and needs with us today to get started on the decision-making process. We work throughout the Austin area including Cedar Park, Georgetown TX, Pflugerville and Round Rock.