General Contractor, Home Renovations, Bathroom Remodeling, Kitchen Design, and Kitchen Cabinets in Pflugerville, TX
Those kitchen cabinets could really use some upgrading. And your small bathroom remodel isn't going to take care of itself. What you need a residential general contractor to take on your home remodeling projects and to get them done how you want. No matter the project, from bathroom renovations and kitchen design, and even commercial construction, Contract Remodeling Services is ready to help you achieve your dreams.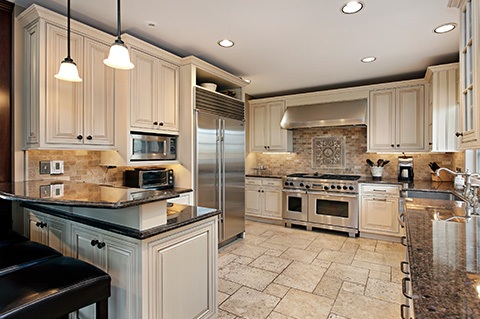 Kitchen Remodeling and Home Remodeling in Pflugerville
Your kitchen is the heart of your home, and its where your family gathers to share and interact, as well as where you entertain guests. Kitchen remodeling is one of the most popular projects homeowners do because it impacts your enjoyment of your house so greatly. We can help with your kitchen design by providing years of experience in what works. Kitchen cabinets are a common item that gets upgraded during a kitchen remodel, and custom cabinets, unique finishes and more are part of our kitchen designs.
As a design-build contractor, we create the spaces that start with excellent design and finish with the craftsmanship you'd expect from a top builder. Homes and lifestyles have changed, and home remodeling and additions can be the way to go. You can count on us to put all aspects together to make a transformation that looks like a model home.
Commercial Construction, General Contractor in Pflugerville, Texas
We have 42 years of experience as a general contractor working on commercial construction projects including new builds, interior remodeling, and exterior remodeling and site work. We specialize in commercial construction and renovations, including interior remodeling, lease space remodeling, and fire damage construction. Our builders are experienced in commercial remodeling, commercial construction, tenant build-outs, and soundproofing. We also offer construction management and can handle all aspects of your project, including plumbing, drywall, flooring, and painting.
Named for German farmer Henry Pfluger, Pflugerville is a suburb of Austin and offers residents a sparse suburban feel. It is a growing suburb that has many amenities available to its residents and offers a rich diversity for all its inhabitants. Pflugerville has still kept its tight-knit, family-oriented feeling and its German roots, by celebrating with a German three-day festival and parade known as the Deutschen Pfest. Pflugerville is also home to several interesting places to visit, including Spirit of Texas distillery and the Central Texas BMX bicycle motocross track.
Contract Remodeling Services is dedicated to meeting your needs.
Our company is licensed and insured for your protection. Call us now at 512-278-8975 to get a free estimate on your next bathroom remodeling project!