Kitchen Design, General Contractor, Small Bathroom Remodel, Kitchen Remodeling, and Home Renovations in Austin, TX
When it comes to home renovations or home remodeling, there are many options that you have available to you. Among them, kitchen remodeling is one of the most popular projects that homeowners undertake for their homes. As part of these renovations, upgrading kitchen cabinets is a common aspect that brings efficiency and a new look to your kitchen. Kitchens are no longer a cookie-cutter design and every part is specially designed for the home, the function and most importantly, the family that lives there. Contract Remodeling Services is ready to be your general contractor and will deliver you a finished project you'll be thrilled with.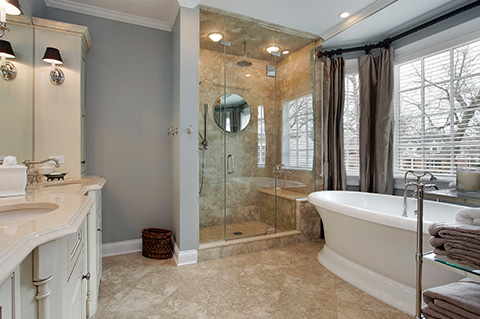 Home Remodeling and Bathroom Renovations in Austin
We go beyond the job of a general contractor to make sure your bath remodel has the unique stylish features that make your bathroom one-of-a-kind. Our designers will create a cohesive look and our workmanship will bring it together. We control all work including tile, plumbing, cabinets and more to create a streamlined finished product. Even if you have a small bathroom remodel project, we will use our expertise to make your bathroom feel larger and maximize open floor space with lighter colors.
Do you love your home and location but wish you had more room, or an extra room? We'll give you the extra space you need. We work with kitchen and bathroom remodeling as well as the rest of the house – floors, walls, painting and more. Home renovations are a great way to update a home you've just moved into or one that is ready to be updated.
Residential and Commercial Construction in Austin, Texas
We love to help customers with building their dream home. As a Design-Build contractor, we work from design and permits to construction and completion. The benefits of a design-build contractor are found in the simplicity of costs and scheduling to the expertise in materials and construction. New home construction doesn't have to go on forever or include many unexpected costs. We have also handled all levels of commercial remodeling from cosmetic updates to full remodeling to accommodate new space or tenant requirements. Our works also extends to heavy equipment exterior work.
Located in Central Texas on the eastern edge of the American Southwest, Austin is the capital of the state of Texas, the Lone Star State. The city is named for Stephen F. Austin, the "Father of Texas." Home to the University of Texas flagship campus, Austin is known for its eclectic live-music scene centered around country, blues and rock. Austin is also home to a wonderful ballet, world-class museums, one-of-a-kind shopping and beautiful outdoor spaces.
Contract Remodeling Services is dedicated to meeting your needs.
Our company is licensed and insured for your protection. Call us now at 512-278-8975 to get a free estimate on your next bathroom remodeling project!