Bathroom Renovations in Pflugerville, TX
Bathroom Renovations Pflugerville, TX, Residents Trust – 512-278-8975
Contract Remodeling Services has over 42 years of experience in home remodeling and specializes in bathroom renovations and small bathroom remodels in Pflugerville, TX, and surrounding areas. Located in nearby Round Rock, Texas, less than 15 minutes away from Pflugerville, our home remodeling company is proud to serve Austin, Georgetown, Cedar Park, Pflugerville, and the nearby communities for expertly designed and implemented bathroom renovations and remodeling.
Is a Bath Remodel Worth it?
According to Remodeling Magazine's latest cost vs. value report, the national average cost of a small-mid bathroom remodel recoups on average 64%, making it one of the best interior home improvement projects for the return on the investment. This data varies based on the size, and purpose of the bath remodel, but practical bathroom renovations have proven year over year to be more than just a great way to improve the Pflugerville house you call home but serves as a solid investment as well.
Pflugerville, TX is a part of Travis County and a small portion of the city is in Williamson County. With a growing population estimated at over 65,000 according to the 2019 Census estimate, Pflugerville is a much-loved suburb of Austin. It's unique name comes from the original German settlers, many of which were farmers. "Pfluger" means "Ploughman" in English. What has started as a rural farming land, has grown into the modern suburb residents know and love today. If you live in Pflugerville, or any of the surrounding cities, and are interested in renovating your bathroom, Contract Remodeling Services is ready to provide a free home remodeling estimate!
Bathroom Remodeling in Pflugerville, TX
Contract Remodeling Services is the trusted remodeling contractor for bathroom renovations and remodeling in the Austin area, including Pflugerville, TX. Honesty and integrity above all else, 42 years of experience and counting, we are ready to help you design the perfect bathroom for your needs.
Large and Small Bathroom Remodels in Pflugerville: Top 4 Tips for Bathroom Renovations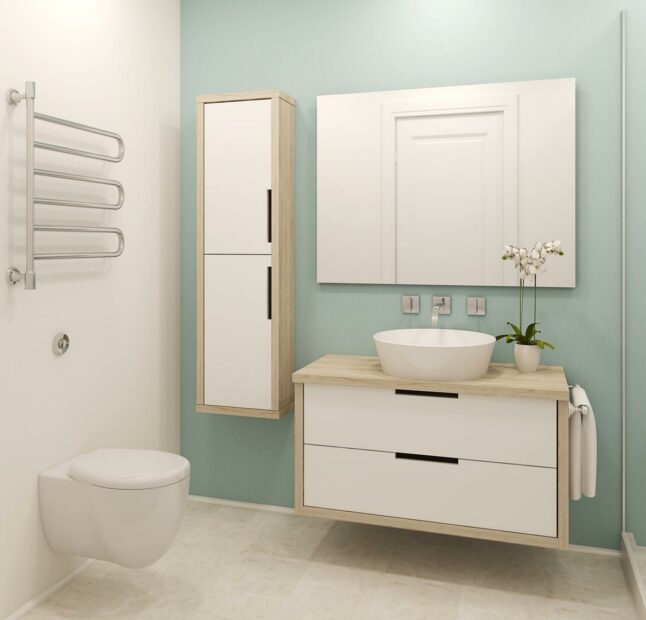 Choices in bathrooms designs used to be limited in size and build in vanities, sinks, and showers. But now there are wall-mounted vanities, vessel and undermount sinks, and more. Showers have even changed with zero entry stalls, double shower heads, steam options, and more. Many of our customers want to change their bathroom as a bathroom renovation with just cosmetic changes. Others want a complete bathroom remodeling to change the layout and features to suit their needs. Either way, Contract Remodeling Services can complete your bathroom design to remodel or renovation from start to finish. Let us be your design-build contractor to bring your design to reality with our streamlined process.
Whether you need a large master ensuite or a small half-bath for guests, we can help you create a stylish and functional space. Here are some simple tips for making a small bathroom remodel feel larger:
Use bright or soft colors.
This may seem obvious but dark walls are in style now. You can balance out dark walls with light flooring. If light flooring is not an option, use a large washable-friendly rug.

Brighten the room with appropriate light.
Designers love to talk about suitable lighting and a bathroom remodel is a great time to install the right type of lighting or maybe even a skylight. This will help balance out any dark colors you choose.

Keep walls and floor space clear.
This will extend your small bathroom and make the space larger. Pedestal and wall-mounted sinks are a great option, especially in a powder room where storage space is not required.

Glass doors in shower and tub space.
For tubs this may be difficult so a curtain that is pulled back out of the way works too. Both of these options give the illusion of pushed back walls.

How to Find the Best Contractor for a Bath Remodel in Pflugerville
Step 1: Know What You Want
So, you know you want a new bathroom, but do you know what specifics you want to change, and what you don't? Taking the time to write out a list of 'love it', 'hate it', and 'I can live with it' will not only help you find the best general contractor with the right set of skills, but it will also help you manage your expectations and budget. If a potential contractor doesn't respect your list and constantly pushes to add more changes (and higher costs), this could be a red flag. However, a good contractor should be able to offer suggestions that may improve your bathroom based upon your list by coming up with creative solutions that may help you achieve your bathroom wishlist in ways you didn't consider.
Step 2: Find Multiple Contractors and Compare References
Researching different contractors before hiring them for a bathroom renovation can help you select the best general contractor for your needs. Consider their portfolio of work and request references from previous clients. Pictures speak volumes when considering home remodeling, so by viewing real-life examples of their skills, you won't need to just 'take their word for it'. It's also important to consider their flexibility – how quickly can they begin work? Will you be waiting a few months before the project can even begin? Interview a few contractors, and take notes on your experience with them.
Step 3: Request a Free Estimate
Get an idea of your project costs upfront. A good general contractor that provides a detailed and well-defined bid is someone that proves their knowledge of the tasks at hand and can provide you with a more accurate estimate. When considering a bath remodel in Pflugerville, or any home remodeling project, it's important to prepare for the unexpected, and include that potential price fluxation upfront will give you peace of mind before, during, and after your bathroom remodeling project is completed.
About Contract Remodeling Services in Pflugerville, Texas
Contract Remodeling Services offers turnkey commercial and residential remodeling, and custom home building services, specializing in the design and creation of spectacular bathroom and kitchens. We work from start to finish, design to completion. We love to design projects that work for the needs and wants of our customers and then follow through with quality materials and workmanship. The result is beautiful spaces for work and living with long-lasting design and excellent build. Professional associations, awards, and certifications:
Better Business Bureau Accredited Member: A+ Rating
General contractor's license
Certified soundproofing specialist (construction and materials)
Permitting specialist
Licensed and insured